compact tractor KUBOTA BX25D - Lichtenburg
Sunday, 20 September 2015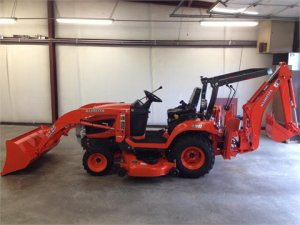 Item details
City:
Lichtenburg, North West
Contacts

joe
Item description
Product Features
1. Versatile Category I 3-Point HitchThe BX-Series all feature a sturdy
hydraulically controlled Category I 3-point hitch that allows you to attach a wide
array of rear implements.
2. Front Implement 4-Position Control ValveA front 4-position valve lets you quickly
and easily attach a front loader and other front-mounted implements. The valve is
easy to access but won't obstruct operations or impair the tractor's clean and sleek
look. (Tractor can be ordered without valve.
3. Cruise ControlCruise control automatically maintains a constant speed, letting
you take your foot off the forward pedal. It's the easy way to mow large areas or
travel long distances.